Introducing: Relative Scheduling
With LearningStone you can offer course timelines that connect content, dialogues, documents, tests, quizzes, automatic messages and lots more. You can copy and reuse course timelines as much as you like. LearningStone workspaces can offer up to hundreds of concurrent training groupspaces each with one or more course timelines.
When reusing course timelines, editing the scheduling dates often turns out to be a cumbersome task. This might be the rescheduling of publication dates (when participants can see or do something) or the rescheduling of automatic emails. A trainer or coach may have to edit a whole list of dates before going live. Sometimes scheduling does need to be absolute, for example when classroom training needs to be planned at an exact time but quite often it's enough to schedule things like automatic emails or content publication relative to the start of the course or relative to the date that someone was added to a groupspace.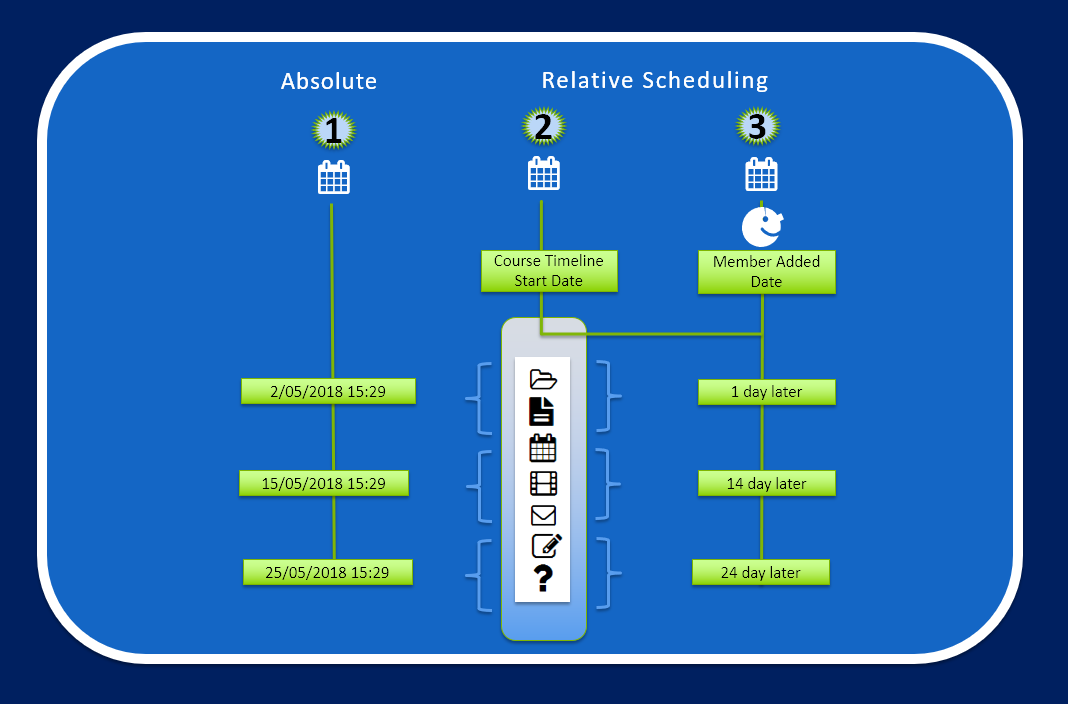 1. Absolute Scheduling
Simply fill in the publication dates of blocks to show or hide blocks. Automatic messages are sent on the publication date.
Pro: you can choose exact times.
Con: you need to set the scheduling for every copy of a coursetimeline.
2. Relative scheduling based on Course Timeline Start Date or date that the member was added.
Publishing blocks
Open the course timeline settings and fill in a Start Date or choose Start Date is  "The date the member was added".

Go to "Display Options" of a top level block (e.g. a section) and add the condition "Days after Start Date" and fill in the number of days. The subblocks will be shown after the set number of days.
Scheduling automatic messages
You can also send automatic messages based on this relative scheduling. Simply add an automatic email block to a course timeline and select Send Date: "Days after Start Date" and fill in the number of days. The mails are sent in the course of the morning (depending on timezone and other factors).