NEW: Progress Markers and Examples
As of today, LearningStone is introducing "Progress Markers", an innovative but easy way to add result tracking, checks and administrative points to your course timelines. Do you want to know if someone has understood something, is ready for a certain event, has finished an assignment or is doing better than the rest? Just add a progress marker.
Imagine, you have added a video and you want to know if your participants have watched it. A progress marker could be the check mark combined with a quick question like...
- I watched the video (yes/no)
- What was the conclusion of the video? (text answer)
- How did you rate this video? (1-5)
- I have uploaded my assignment (OK)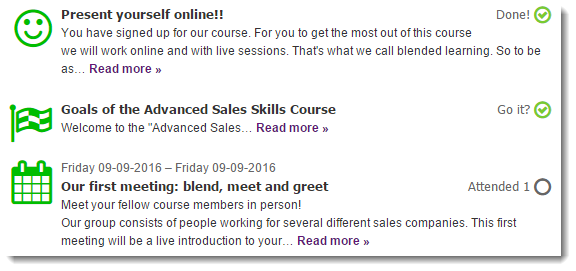 Results are collected in a progress report. This report is a table with results that can be shared with the group or kept private for the trainer or coach (who can also download it). A shared progress report can be a good starting point for gamification  but you can also add questions that only the coach can answer (e.g. a grade) or even add hidden questions so that the coach can for example keep notes without sharing themwith the participant.
Want to know more? Check out our help page  or check out the progress marker demo (see below).

NEW: Course Timeline Examples
Today we're also introducing Course Timelines Examples. Just go to the course timeline library in any group, choose "Create or copy a course timeline" and click on "EXAMPLES" to copy an example into your group.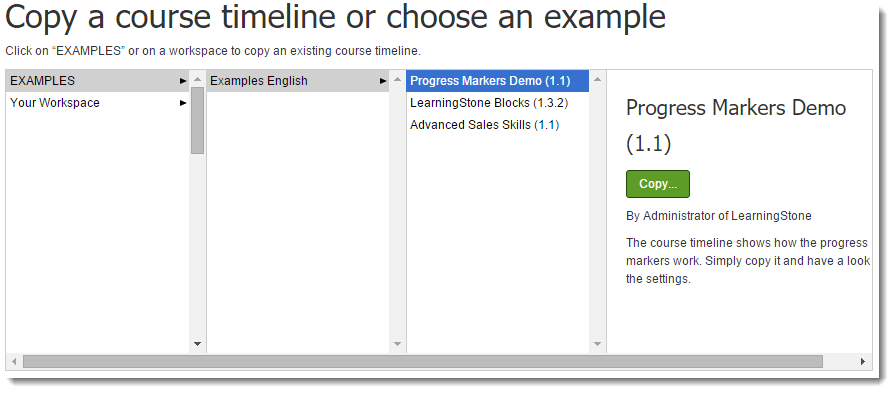 We've added a course timeline called "Progress Marker Demo"" for you to play with. We'll be adding more examples soon!