NEW: LearningStone introduces Conditional Content

We're pleased to announce that as of today it is possible to show parts of course timelines conditionally. Now you can decide if and when participants can access specific parts of your content.
This is best explained with a few examples.
For example, show content if participant...
has agreed to general terms
has passed a test
has at least 60% correct (of that test)
has answered "yes" to the question "Have you understood this video?"
And it's also possible to let a participant move on if the trainer or coach for example has.
given a grade for a face-to-face session
given a grade higher than 5 out of 10.
marked attendance to a face-to-face session
Examples: To try this out, copy the example "Understanding Conditional Content" from the English course timeline example folder (which you can find by clicking on "Copy or Create" in the course timeline library.
How to add a condition
Step 1. Add a block (e.g. INTRO VIDEO) to a course timeline with a progress marker E.g. "Have you understood this video" (Yes/No). 
(Progress markers are checkpoints that together form a progress report. Progress markers can be found at the bottom of the content-tab of a block.)
Step 2. Add a second block (e.g. a section called PART 1) with a few indented subblocks. Go to PART 1 and choose Display Options > Condition. Set the condition: "Show subblocks if INTRO VIDEO = Yes" (don't worry you don't need to type this!). You can add some feedback for members that haven't met the condition.
If someone answered "No" to the question "Have you understood this video?" they won't be able to continue with PART 1. You can choose if they can re-do the question and answer "Yes"" later.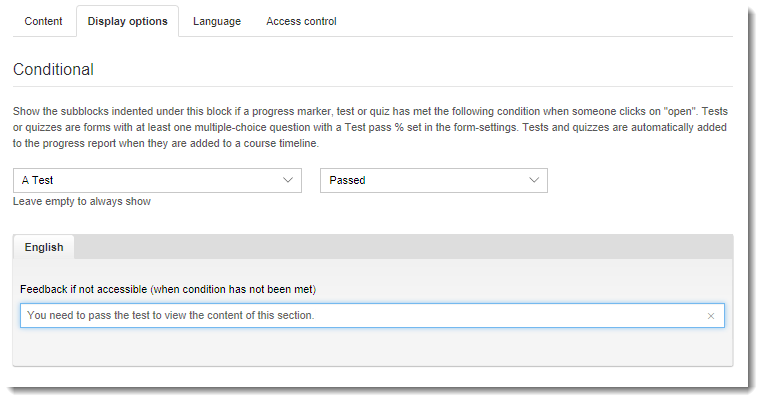 A condition based on test or quiz results
In Step 1 above, you can also add a quiz or test (any form with multiple-choice questions with a Test pass % set in the form-settings) to the course timeline. The form result (passed or not and the %) will automatically be added to the progress report.