Introducing LearningStone Solo for eCoaching and individual eLearning.
We're happy to announce the release of what we call the Solo version of LearningStone.
Don't worry… it's not a separate  version, it doesn't cost more if you have a paid licence and all you have to do is create a new groupspace to get started. We've just added more possibilities!
Many of our users have said they love the collaborative side of LearningStone but would like to use it for individual use too. So we added a new type of groupspace called the "Solo Groupspace" which supports self-paced or other individual learning and one-to-one eCoaching.
Let us explain...
Collaborative Groupspaces
At LearningStone we believe in blended learning and -  if possible - you should use the power of the people (that's you, your colleagues or other learners) to learn together. That's why LearningStone is a platform that not only offers functions like a course timeline, tests and quizzes, progress reporting and lots more but also lets the learners communicate with each other. This is great for training groups, workshops, learning communities and other group situations.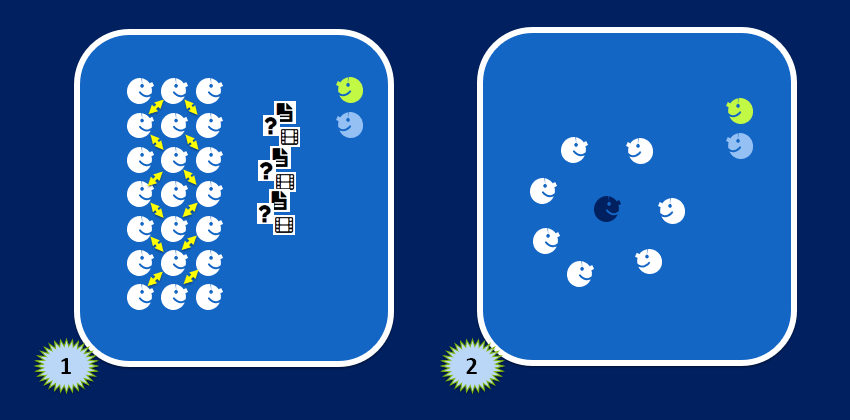 1. Collaborative groups
In a collaborative group, members see and interact with each other while learning. Collaboration happens through messages, posts and responses, comments on documents, shared progress reports and more. Within this scenario there are also personal one-on-one contacts with the coach or trainer but the learner is never alone.
2. Small Group Coaching
In a small group coaching, the coachee is the center of attention. Both the coach and the coachee can invite colleagues or other stakeholders and use the collaboration features to give feedback and of course other group functions can be used as well.
And now... Solo Groupspaces!
There are situations when a learner or coachee doesn't want to see others or interact with others. Think of one-on-one coaching, or self-paced individual eLearning or combinations of individual learning and coaching.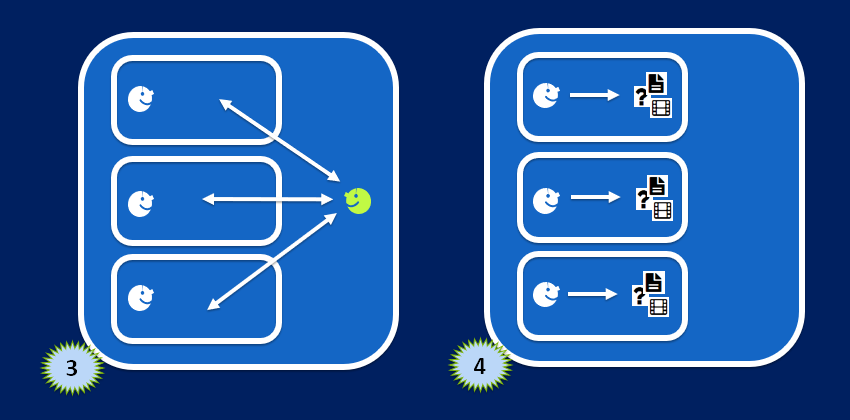 3. One-on-one coaching
The "Solo Groupspace"  is an effective way to provide one-on-one eCoaching. This type of  "groupspace" is simply a container of individuals who communicate with the coach. In the "Solo Groupspace"  there are no group-collaboration options and the functionality is changed and a different layout is chosen. The coach can use the new "Personal Dialogues" (formerly known as Discussions)  to manage the coaching sessions, add forms and tests to the course timelines or use "Personal Docs" to store documents privately. A coach or trainer can posts to the whole group but the members of the solo groupspace can of course not post to the group.
4. Individual eLearning
Each member of a Solo Groupspace can go through a course timeline at his or her own pace and they will have no notion of other members.
To manage the different starting dates of a course timeline, LearningStone has added so-called " Relative Scheduling ". Not only can you add conditions to content and send automatic messages based on the time passed after the start date but you can choose to let that time be relative to the date that the member was added.
Example: Imagine, that you're implementing a course offering learning moments once a week for a whole year. Every week the trainee get a scheduled message with links to content or assignments or quizzes and tests. You can now add trainees and the messages are scheduled depending on their join date. You can add display conditions to course timeline blocks (modules in LearningStone) like this:
Show content of this block X days after the join days.
Show content after you have finished a previous block (or perhaps passed-  or at least done a test).
How to start
Go to the catalog of groupspaces of a LearningStone Workspace and create a new groupspace.
Choose Solo-Groupspace (Pro or Enterprise only) and give it a name.
Check Settings > Functions & Permissions for layout and functions.
You'll notice that unlike collaborative groupspaces functions to collaborate have been blocked. You can for example, turn on the wall, but it can only be used by the coach to broadcast to the group.

Need help? Want to outsource the development? Let us know!